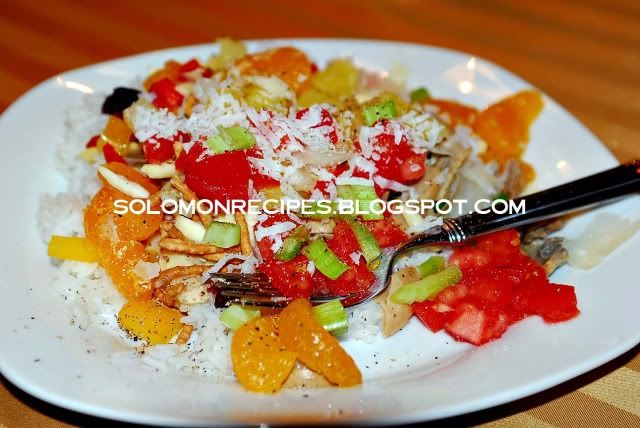 Hawaiian Haystacks! It seems like if you stick a pineapple on it, it's called Hawaiian. LOL, but this is such a wonderful dish. I know my sister in law made it for us many many years ago. Then I haven't had them since. It's been 10 long years since these have graced my palette. Some friends had us over for dinner and this is what she served. I have craved them ever since that night! What was I thinking never to make them. I finally did it and I'm so glad I did! The basic ingredients is chicken, cream of chicken, rice and any topping you wanted to put on it!
Hawaiian Haystacks
Sauce: 2 cans cream of chicken soup 2 cups chopped cooked chicken 1 cup chicken broth Mix and heat. Toppings (in order): Rice chow mein noodles chopped tomatoes chopped celery chopped green,red,and yellow peppers, cheese, pineapple, mandarin oranges, olives, almonds, coconut,etc.
Mix the cream of chicken soup with the chicken broth on medium heat. Add cooked chicken (shredded or chopped).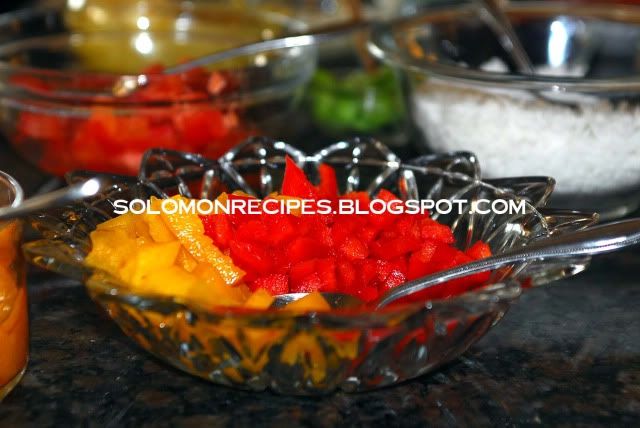 Place a scoop of rice into each bowl. Spoon one to two ladles full of sauce over the top of each scoop.
Set out toppings in small bowls on the table. Add cheese first, so it will melt, then other toppings, to individual taste. Although it may seem strange to combine pineapple and coconut with savory flavors.