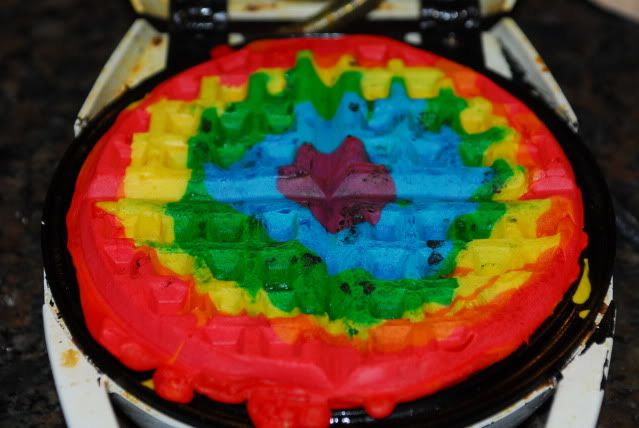 We always have a great time for the holidays and I love to have fun and celebrate. We had many of our traditional St. Patty's traditions along with a few new ones. My children absolutely loved these and had a great time eating them. Their little pot of gold was sliced bananas! Way fun.
My recipe comes from Betty Crocker herself. It is my favorite go to, never fail nice and fluffy recipe!
WAFFLE RECIPE
Yields: 4 waffles com
INGREDIENTS
1 3/4 cups all purpose flour
1 TBL spoon baking powder
1/4 tsp salt
2 egg yolks
1 3/4 cups milk
1/2 cup cooking oil
2 egg whites
In a mixing bowl combine flour, baking powder and salt.
In another bowl beat egg yolks slightly. Beat in milk and oil. Add egg yolk mixture to flour mixture all at once. Stir just til combined
but still slightly lumpy.
In a small bowl beat egg whites till stiff peaks. (tips stand straight). Gently fold beaten egg whites into flour and egg yolk mixture, leaving a few fluffs of egg whites. DO NOT OVER MIX!
Pour 1 to 1 1/4 cups batter onto waffle grid of preheated lightly greased waffle maker. Close lid, do not lift lid until done. use fork to lift out.
Using food coloring tint waffle batter in separate bowls or cups or for easy pouring use Wilton bags or Ziploc bags. Starting with red place in center of waffle grid and as each color out will need more batter. ROY G. BIV
Red
Orange
Yellow
Green
Blue
Indigo
Violet